dont_forget_me (prototype)
A downloadable game for Windows, macOS, and Linux
dont_forget_me is a narrative investigation game in an "cyberpunk noir" universe.
"dont_forget_me" takes place in a world that is governed by a totalitarian government, controlled by a megacorporation. To avoid repeating past mistakes, each individual has chosen to have a chip that records all their memories.
You play Fran, a young woman with amnesia. You are taken in by Bernard, a specialist in memory copying, an illegal activity, who works in an undeclared clinic. You assist him in his work. Thanks to copyists, people have the opportunity to keep duplicates of their memories. This duo will allow you to better understand the world around you.
However, one day, the arrival of a member of the "Forgotten", named Ederel, will lead you into an ideological battle. This quest will confront you with others and yourself.
How will you choose to fight this fight?

(Planned) Features :
A beautiful pixel art in 240p!
Impacting dialogues
Fascinating characters
A living world
An Ost mixing jazz noir and synthwave
Possibility to explore your patients' memories, in a evolutive way
CATS!
Dark secrets deeply buried...
Planned release : Earlier 2020 (but we're not sure...)

If you have any feedback, post it in comments or you can contact us on twitter @TheMoonPirates (please, follow, it helps us a lot) !
Install instructions
Unzip it and play, as simple as that :)

Download
Comments
Log in with itch.io to leave a comment.
What a delightful little experience this was. Right up my old school, retro point and click alley!
I jumped into the world of Fran and Bernard head first, and the aesthetics of the game really set the tone well. It can be really hard to convey relationships between characters in such a short timeframe but I really felt a camaraderie between the two!
The story is very intriguing too, which is, y'know, kinda vital in an adventure game like this one! Finding the words within the computer was kind of challenging, but once you get one link the others follow pretty quickly if you keep your thinking cap on! That's going to be a really cool gameplay feature and I hope we see more of it! But I also hope we see more old school point and click style gaming too, mixing objects to solve puzzles and that kind of thing.
Anyways, this was great! Hope you keep plugging away at the production, and I hope more people dive in and give it a go too. It's definitely worth a look, retro point and click fans! =)
Played/recorded pre-latest fix. Still got to the end, looking forward to more. :)

just downloaded it. should be latest version.
some issues: when i look around the clinic sometimes the first client event isn't triggered (client won't come, items are not interactive anymore). wrong order maybe?
when i exit from the terminal to menu, and return to game, the keyword input isn't active anymore...can't click on anything, enter words or leave terminal either...

Hey !
Thank you for taking the time to play it:)
For your first problem, do you have the specific steps you did? This is the first I've heard of this bug.
For the second problem, we are aware of it and it is being corrected, no worries :)
Playing the windows version on English (but it's the same with French).
From an interface point, it's strange and frustrating that instead of using the space button whenever you have an interaction, sometimes in "menu"-like environments the ENTER key needs to be used. And then you can't use the 'normal' one, you have to use the one on the keypad.
So I almost couldn't start the game, because while I could use WSAD to choose between English and French, actually confirming that selection doesn't work with any key that is actually listed on screen as help!

Later the same happened with dialog choices or when changing the music, but then of course I knew which other key to check.

Of course maybe later both keys may be usuable at the same time. But at least put that essential ENTER key in the help of the initial screen when you select the language, though (from my limited playing) I would greatly prefer to be able to use space instead of ENTER in those cases, if possible.

First of all, thank you for playing the game and for the feedback
When did you download the game?
Because the space/enter bug was fixed a few hours after the initial release
I guess I downloaded it more or less immediately after the announcement came through Kickstarter, but came around playing it only at the weekend. I looked at the devlog entry for the fixes, but my problem wasn't among them. The file name for the download was also the same, so I didn't redownload.
Nice to hear the problem is already fixed.
Best regards,
Ingix

I can't wait for more! It was an honor to have this prototype be my first Let's Play!
Hi, your quit button doesn't work! But I enjoyed the game so far, I love the idea, couldn't figure out the top row of word links past logo and jacket but got the whole bottom section, really nice little demo! Hope you keep working on this and add more soon :D
Hey ! Thanks for your feedbakc !
I'm really happy you enjoy the prototype :)
I'll repair this button right now !
It's ok, you can quit now. You're not our prisoner anymore :)
Got a problem, the interface for finding the memory doesn't come up when choosing English (can't get past the point in the image). Tried French and it worked. That's on the Windows version.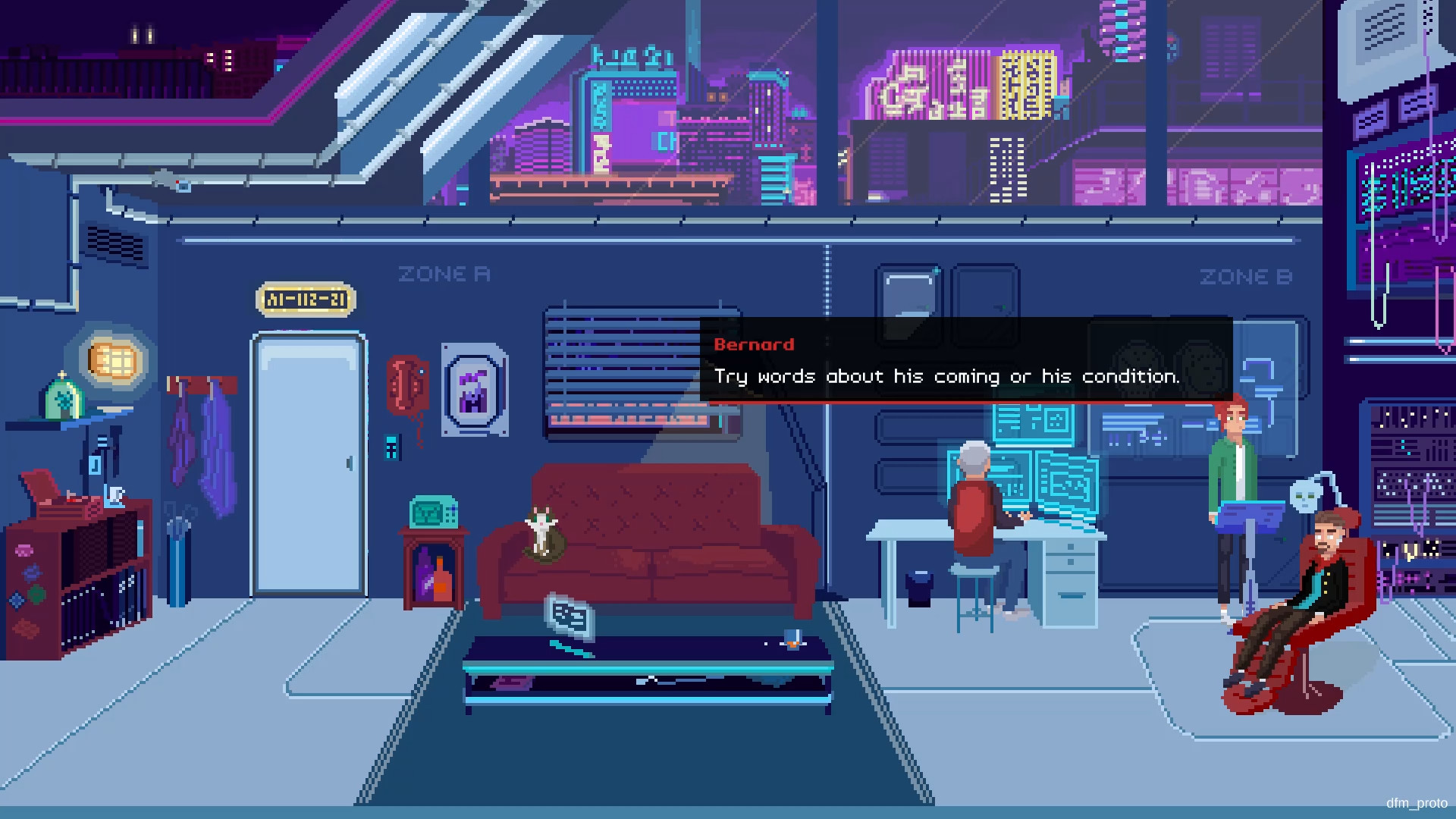 Thanks for the feedback, I'll look at it !
A new build arrive in 10 minutes :)
Sometime, the problem is a coma... Okay, here, it was a # but it's the same :D